INDUSTRIES
Our experience spans many markets among business and consumer audiences, including:
Consumer Goods
Advertising
Software
Technology
Tourism
Automotive
Outdoor
Events
Education
Industrial
Associations
Fashion
Municipal
Financial Services
Restaurant
Energy
Healthcare
Pharmaceutical
Nonprofits
Personal Care
Building
Music
DoD
Higher Education
CLIENTS
We've been very fortunate to research the audiences of many of the world's leading brands, including: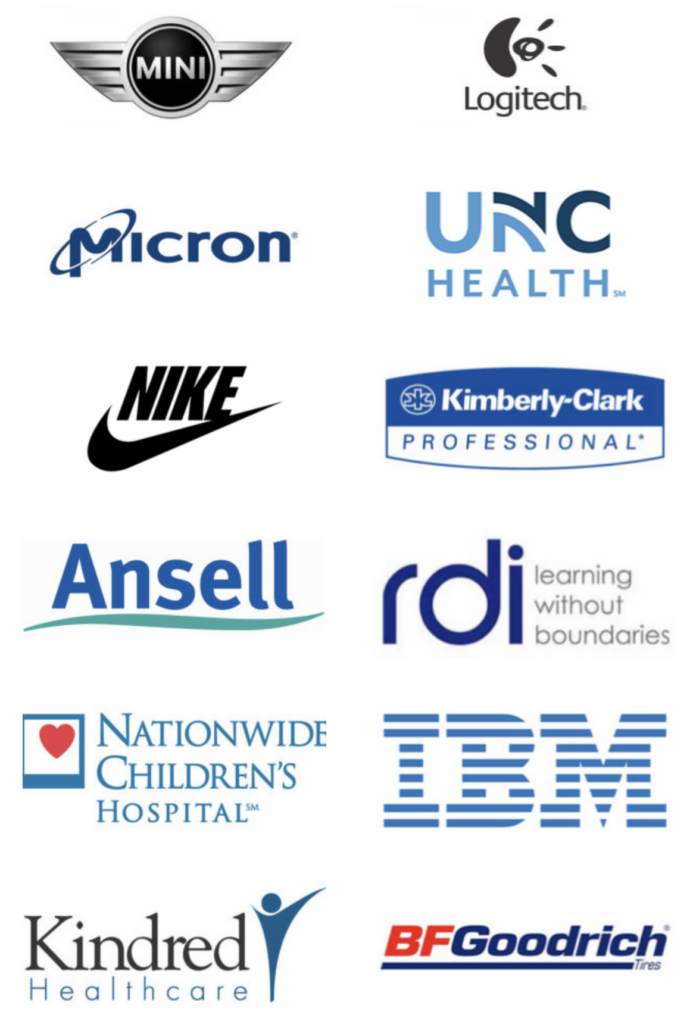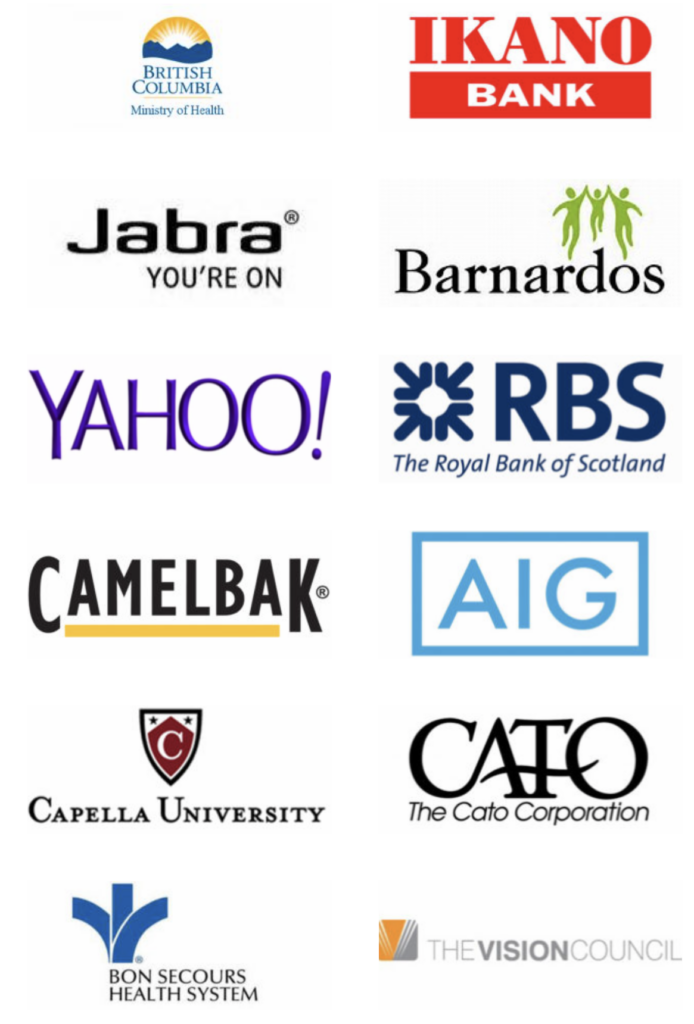 CASE STUDIES
Challenge
Uncover insights that could be used to develop more effective strategies for creation, distribution and sharing of interesting patient/facility content.
Solution
Feedback deployed a bottom-up content strategy for this company and deployed its professionals to support subsequent market visits and digital content aggregation across the country. Activities included research, review and analysis of appropriate technology tools and development of local patient testimonials that were subsequently included as part of the national brand's social content.
Result
This strategic approach – using localized content to support the national brand as opposed to driving national content down through over 200 local hospital channels – invigorated local hospitals through the engagement of their doctors, nurses, administrators and patients. In the process, Feedback helped this client build a complete library of effective new content, improving their search engine rankings and increasing engagement and positive sentiment among patients and their families throughout the United States.
---
Challenge
Provide actionable insights from consumer audiences that will drive increased brand engagement, consideration and product sales.
Solution
Feedback used its HumanFilterSM system to research multiple market segments — including consumer audiences and social influencers — and discover unique insights within six weeks. The actionable recommendations Feedback delivered included an analysis of core audience sentiment and preferences, and a review of international audiences in twelve countries.
Result
Feedback's insights and recommendations helped the client produce campaigns that exceeded aggressive marketing objectives in 1/6th of the time expected. This included growth rates of 3X industry averages and engagement rates 12X what was expected. This research further allowed our client to enter and dominate a previously underserved market segment and expand its leadership position in the industry.
---
Challenge
Identify buying preferences and triggers among four key UK audiences, test messaging for maximum engagement, and reduce the cost of customer acquisition.
Solution
Within four weeks of the project outset, Feedback researched selected target audiences and developed the communications matrices that would help reach those who would engage and select our client's services over those of larger competitors. Marketing themes were compared for effectiveness, and messages were tested to assess accuracy of proposed marketing strategies.
Result
As a result of Feedback's research, client was able to more effectively deploy communications messaging to its target audiences, in some cases delivering superior results in days, as opposed to the expected weeks. This efficient communication strategy enabled our client to slash the cost of customer acquisition by over 70%, reallocate marketing budgets for more cost-effective use, and also identified subsequent opportunities for Feedback to conduct its specialized research in other client markets – including Nigeria, Hong Kong, Trinidad & Tobago, St. Lucia, Jamaica and the Middle East.
---
Challenge
Research multiple target markets and determine whether client's digital marketing efforts are properly aligned with the correct consumer channels.
Solution
Feedback uncovered multiple social and digital channels where the bank's audiences were very active, and identified the influencers in those channels who could facilitate the bank's marketing efforts. Feedback's insights included highly effective messaging themes and assessed target audiences' potential acceptance of various methods of communication.
Result
Our HumanFilter system quickly unearthed unknown digital channels and the audiences that participated in discussions about the bank and its competitors. After plotting the findings over their existing online marketing efforts, the client quickly reallocated resources to more effectively engage its best audiences, leading to higher customer engagement, more positive sentiment and a growing customer base for the bank in the UK.
---
Challenge
Research all B2B online channels to identify underlying brand problems and potential solutions to obtain consistent and effective marketing strategies and tactics among its franchisee base.
Solution
Feedback deployed its research strategies throughout North America, auditing all social and digital channels for current and past examples of franchisee marketing efforts. In six weeks, true influencers were identified, hard-to-reach audiences were located (including audiences our client was sure WERE NOT online) and online channels were reviewed for potential new marketing opportunities.
Result
Feedback's report identified numerous areas for improvement and discovered previously unknown channels where influencers and decision makers were discussing our client and its competitors. Our recommendations included the development of targeted applications to increase penetration of channel segments and audiences, resulting in a huge first-mover advantage for this company among its target audiences.
---
Challenge
Develop empirical, qualitative insights to inform and support the deployment of a new, centralized re-branding program among six member hospitals in the network.
Solution
Over a period of six weeks, Feedback deployed its HumanFilter system to uncover sentiments of nurses, physicians, patients and other stakeholders in multiple locations who would interact with the new brand. Our research included analyses of competitors, resident sentiment, top influencers, cell coverage on channel usage, and implications of driving patterns on facility use.
Result
Due to Feedback's research, our client was in a much stronger position to deploy its rebranding in select locations, based on localized sentiment. Certain low-performing channels were eliminated from the marketing mix, while more effective options were added – resulting in consumer engagement rates over 20X the industry average. Our report then served as a digital marketing roadmap for the hospital's marketing teams, based on observed behaviors of their customers in multiple locations.
---
Challenge
Increase social media fan base, consumer engagement and online sales of their premium product lines in the United States.
Solution
Feedback deployed its HumanFilterSM message testing system to identify near- term opportunities among new audiences, including many customers of the client's primary competitors. Feedback also provided a significant analysis of both the client's and its competitors' digital marketing efforts, which would contribute to subsequent marketing campaigns.
Result
By reviewing potential audiences and conducting digital testing – for messaging, imagery, themes and audience, Feedback delivered a detailed program of social media activity that contributed to significant growth of the client's fan base and delivered engagement levels 30-40 times national segment averages. This was done at a fraction of the anticipated marketing expense and resulted in significantly greater digital sales through the client's e-commerce site.
---
Challenge
Discover actionable insights that can be used to drive sustainability into the purchasing decisions of facilities managers in the US and Canada.
Solution
Feedback identified high-value channels, key audiences and the French Canadian and English vocabularies being used to discuss sustainable building of facilities, including discussions by the managers of these facilities. These included education campuses, stadiums, airports, hospitals and other high-traffic buildings.
Result
As a result of this research, the client was able to identify which target audiences were moving most aggressively toward their products, and which ones were more reluctant to consider both specific products, and also consider sustainability as a key factor in their purchase of future products for their facilities. These research findings were subsequently validated at Feedback by conducting A/B message testing in digital channels, and were very helpful in determining what communications would resonate most effectively with buying audiences as sustainability became more important to them.